Results of the 2022 Committee Elections
The European Brain and Behavior Society is pleased to announce the results of our recent elections.
Prof. Ewelina Knapska has been elected as President Elect of the Society and will take over as President in August 2023.
Dr Androniki Raftogianni and Dr Michael van der Kooij have both been elected as ordinary members of the executive committee.
Congratulations to them all, and many thanks to all those that put themselves forward for consideration. It has been wonderful to see so much continued support of the society.
---
Elections for the EBBS committee
An election is being held to appoint new Committee Members: President-elect and 2 Ordinary Members. All EBBS members in good standing (i.e., those who have paid all their membership fees) are eligible to vote in the election.
The voting platform will open next 21 May 2022 (10:00, Central European Summer Time) and you will need to access your Reserved Area to vote.
The election will close on 10 June 2022 (23:59 Central European Summer Time).
The members below have been nominated to stand for election to the Committee.
President-elect canditate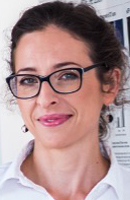 Ewelina Knapska
Nencki Institute
Warsaw, Poland
Autobiographical statement
Autobiographical statement
(If the link above does not work on your browser, please download the file here )
Ordinary Committee Member canditates